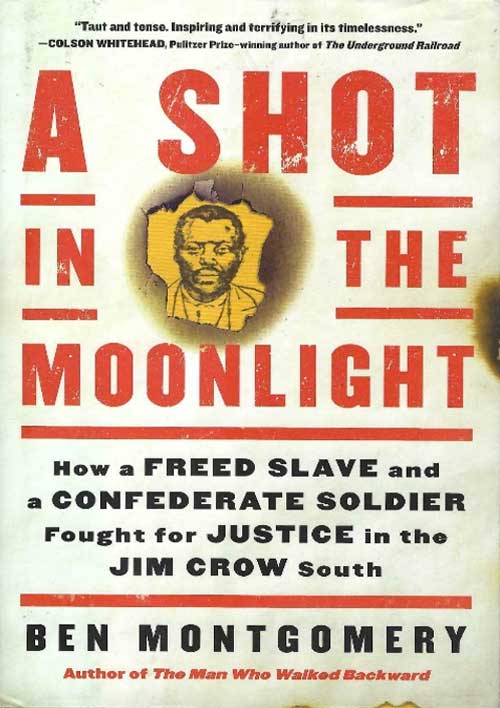 The Regional Readers book discussion group will meet on Tuesday, October 31 in the former JSF Conference Room (now Right Eye Graphics).Coffee and conversation at 2 p.m.; book discussion at 2:30 p.m.
The October selection is A Shot in the Moonlight: How a Freed Slave and a Confederate Soldier Fought for Justice in the Jim Crow South by Ben Montgomery.  After moonrise on the cold night of January 21, 1897, a mob of 25 white men gathered in a patch of woods near Big Bend in south-western Simpson County, Kentucky.  Half carried rifles and shotguns, and a few had pistols tucked in their pants.  Their target was George Dinning, a freed slave who'd farmed peacefully in the area for 14 years, and who had been wrongfully accused of stealing livestock from a neighboring farm.  When the mob began firing through the doors and windows of Dinning's home, he fired back in self-defense, shooting and killing the son of a wealthy Kentucky family.  So began one of the strangest legal episodes in American history – one that ended with Dinning becoming the first Black man in the south to beat a lynch mob in court.  Drawing on a trove of never-before-published material, bestselling author and Pulitzer Prize finalist Ben Montgomery resurrects this dramatic but largely forgotten story, and the unusual convergence of characters – among them a Confderate war-hero-turned-lawyer Bennet H. Young, Kentucky governor William O'Connell Bradley, and George Dinning himself – that allowed this unlikely story of justice to unfold at a time and in a place where justice was all too rare.
The book group is open to all and new members are always welcome.  We encourage suggestions for the 2023 reading list.