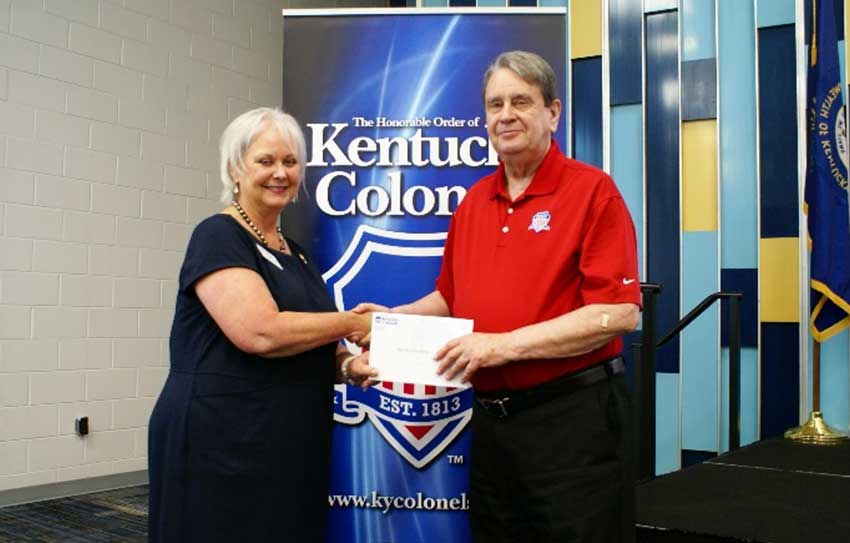 JSF CEO & Senior Editor Dr. James M. Gifford (a Kentucky Colonel) accepts a grant award from Colonel Sherry Crose, executive director of the HOKC, during a ceremony on June 13.
The Jesse Stuart Foundation received a $4,000 grant from the Honorable Order of Kentucky Colonels to distribute copies of Jesse Stuart's New Harvest to underserved public libraries and schools throughout Kentucky.
This year, the HOKC will award $3.1 million in grants supporting 314 nonprofits, impacting more than 3.9 million Kentuckians. Grants are made possible through donations from contributing Kentucky Colonels from throughout the Commonwealth and around the world who chose to exercise this honor in a meaningful way.
The HOKC is a 501 (c) (3) entity dedicated to supporting charitable activities throughout the Commonwealth of Kentucky. The organization is governed by an all-volunteer Board of trustees. The "Kentucky Colonel" is an honorary title granted by the Governor of the Commonwealth of Kentucky. Since 1951, the organization has pursued its mission through annual grants totaling $60 million to more than 1,600 nonprofits.